Welcome to the official web site of Hyde Seal Swimming Club (est 1895)
Affiliated to the Amateur Swimming Association and SwimNorthWest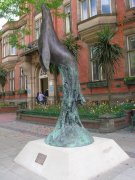 Mission Statement:
The aim of the club is to provide a friendly environment for swimmers of all abilities to progress and achieve their potential. Swimmers have the opportunity to compete in a range of club competitions, local friendly league galas, county competitions and masters.
We aim to create:
Confident, competitive swimmers.
Team spirit.
Disciplined approach to fitness.